if you get value from my music, please be sure to return it by
supporting me with a purchase at Bandcamp
Measured Spaces II clearly indicates a similarly named album. This was one of those albums that cleverly disguised its story until the very last moment. Most of the pieces were written with no names which is a no-no for me. A couple toward the end had names, the first one because as a competition entry, it needed one: "Easing Into Conjunction" which was really a play on the mechanics of the track that changes Scale for the ending so finally everything plays together, and used E as the Key – see I leave clues everywhere.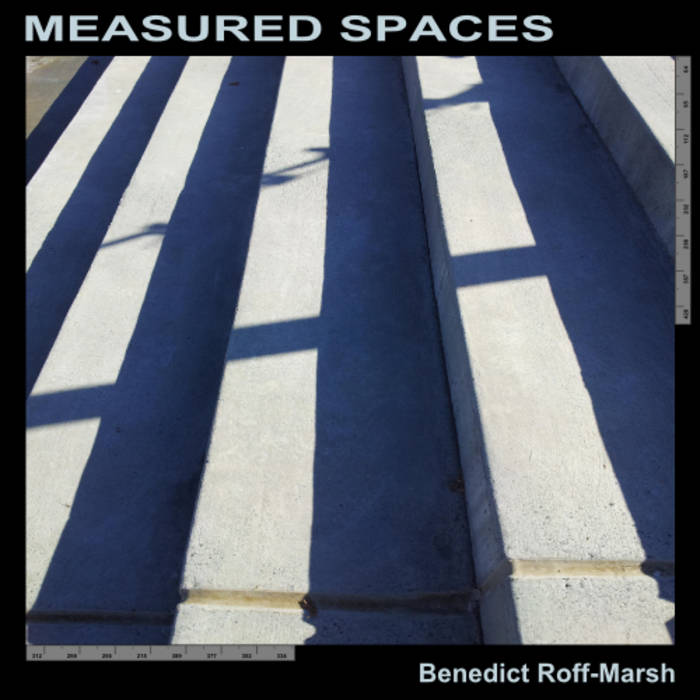 I listened to the original Measured Spaces at bedtime for the sleepytime effect and a day or so later decided that, for some reason, this new material needed the same name. No good reason apparent for that. I added the II and let it sit. A few iterations of the running order and it clicked as an album. Still no real sense to the title or story.
I made cover art. I knew I wanted to carry over the ruler device used on the first cover. It became a road in a surreal landscape. Ok. By now I really needed names and Track 01 didn't cut it. So I popped on the music with Google and went with the first things that came. I had to skip #6 as it wouldn't come. Once I had "Dark Gunslinger" after "Happy Valley Home" and moving into the Conjunction track it clicked
The measuring in this record is not the same as last time when the viewer saw and therefore judged (or measured) the scene like a painting, in this situation, the viewer is searching over the horizon for a place to be valued and accepted. While initially found, there was something to be overcome in the "new kid in town" (renowned in town) situation that had to be dealt with directly.
For the Synthspotters, 100% of this record is pure synthesis made in the compositions using instruments in Reason 12, eg Europa, Thor, Algoritm, and Subtractor. There are some classic Korg rhythm box samples in "Life In Another Land" but they are still my patterns. And no, despite being one of the first (and few melodic) entries in that competition, I didn't get a look-in as expected (probably because of that melody).
if you get value from my music, please be sure to return it by
supporting me with a purchase at Bandcamp
Track Walkthrough Review
Normally I write notes on each track in the record. this time I didn't. A musician friend sent his feedback over after listening to the record so I figured I would share that instead.
Intro – Short but intriguing!
Over The Divide – Nice flowing instruments, good listening for my understanding of lemon juicyness. I like the dark pads and the eerie vibe, mixed with the more calming yet still eerie melody. Cool bells, feels very much like they are blowing in the wind! Quite dark, yet smooth and almost comforting too.
On The Road – Calmed down from the last track, quite a lovely melody works very well with the other elements. Really pretty. Feels deep and a hint of jean-michel jarre was felt with the pads. Pads are great, smooth.
Being Movement – Cool vibe, feels desolate like an open area in the beginning. Bit harder to decipher what I'm feeling here, great flowing and great combination of sounds, working really well. Cool subtle drums.
Happy Valley Home – Great synth pads, there's a really meaty one in there that is really cool. Feels dark then lightens up quite a lot. Quite involved, lots happening which is good. Cool original sounds. The lightened feeling carried throughout in the end, quite a chill piece yet deep also.
Town In-Renown – Wonderful FX sound rising and falling, really adds complexity to the piece, love it. Solid pads feels like they have their purpose. Feels dark, almost a little sad, but dark. Good movement, feel a sense of progressing story. Nice harmonizing, feels like a solid piece.
Dark Gunslinger – Great name! Cool drums and vibe. FX sound like shooting guns. I like the momentum here, has a good upbeat energy, everything is moving along energetically, also has a bit of an attitude. Feels like a quest. Snare is great. Great resolve, cool piece.
Easing Into Conjunction – Really built up in to the bright strong pads, lovely bass against it, feels very large overall. Lovely brass sound, very confident with itself it sits really well, played the role of lead very well.
Life In Another Land – Again the really good flowing of instruments, especially the pads helps me understand them better. Bass is great, very low and pronounced. Picks up in a really nice way, feels exploratory like the title suggests. All elements working really well together. Quite pretty yet a little odd, keep thinking of the title and the feeling of a space man exploring a planet, great!!
A Place to Settle – Wow, feels complex, lots of emotions. Again using the title it's hard to not imagine exactly that, like a coming home feeling. The prettyness of the piece works very well, like a peaceful victory on a perfect day. Very sleek, great leads in there. Very calm. Very homely. A hint of eeriness, but with a victorious feeling. Cool!
Outro – Short and sweet, it seemed necessary to complete the album, nice!! 🙂